Common Causes of Basement Leaks
After a storm, the ground around the foundation becomes loaded with rainwater. If your drains are clogged or broken, this water will sit there, exerting enormous pressure against your basement walls, until it naturally finds its way out. After a while, the pressure is relieved, but every time this happens, your walls become more damaged and vulnerable, eventually giving in and allowing water to seep in through cracks and joints.
In order to prevent new leaks and flooding in your basement, an effective drainage system must be in place. This way, water gets diverted from the soil around your foundation. By having a sump pump system added to your waterproofing system, your basement will be covered by an extra layer of protection.
French Drains
(the old-fashioned solution)
For a long time, French drains, also known as footing drains, have been the builder's choice for groundwater control. They are installed around the external perimeter of the house, by the footing. This kind of drain tends to clog due to silt, mud and debris entering it, carried along with the water. This renders the drain ineffective, allowing water to build up and leak into the house. To fix a clogged drain pipe, it would be necessary to dig up the foundation all the way to the footing level.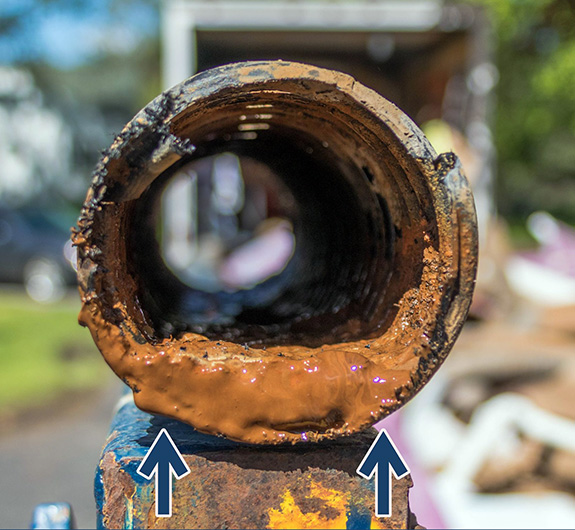 Interior Perimeter Drainage Systems
At Maryland Mold and Waterproofing, we provide a superior alternative to the French drain. Our drainage system of choice is installed along the interior perimeter of your basement. This way, much less dirt is allowed to enter the pipes, which means no clogging. Internal drains are also much easier to service and repair, because no digging up is necessary to access them. We offer two types of drains, each suited to different levels of water diversion.
The sump pump is the core of any effective waterproofing system. Water collected by the drain pipes is channeled into the sump pit. Once there, the sump pump takes care of pumping it out of your basement and discharging it into the sewage system.
Battery Backup Sump Pumps
Sump pumps need electricity to operate. On the occasion of a power cut, your sump pump won't be able to run, unless you have installed a battery backup. The backups provided by Maryland Mold and Waterproofing kick in automatically when power goes out, and recharge by themselves once power is restored. This level of autonomy in a waterproofing system means a lot less to worry about, during a heavy rainstorm.
The Grate Sump Plus™ is the standard battery backup system to sump pumps provided by Maryland Mold and Waterproofing. It activates by itself as needed and automatically recharges when the power is restored.
This system provides enough power for one pump to move up to 10,000 gallons of water. It also comes with a low battery alarm and LED indicator, to let you know in advance when more power is needed.
Our Grate Sump Plus II™ is the definitive solution for water infiltration in your basement.
This system is comprised of two pumps, rather than one. It can handle virtually any volume of water, and keep your basement safe during extended power cuts.
Like all of our products, the Grate Sump Plus II™ is also backed by our Healthy Basement Certificate with a limited Transferable Lifetime Warranty!
TAKE CONTROL OF MOLD ISSUES AND RESTORE THE HEALTH OF YOUR HOME!
Get a Free Estimate Today!
What Our Basement Waterproofing Customers Say About Us