What Causes Basement Walls to Bow in Maryland?
Bowing basement walls are a common problem that can cause significant structural damage to a home or building. These walls bow inwards due to excessive pressure from hydrostatic forces, which is caused by water pushing against the wall. If the hydrostatic pressure exceeds the strength of the wall, it will start to bow inwards. Other potential causes of bowing basement walls include soil erosion, expansive soils, and construction problems. If not addressed, bowing basement walls can lead to major foundation damage and other serious structural issues.
Fortunately, Maryland  Mold & Waterproofing offers  many repair options including steel reinforcements, carbon fiber wraps, epoxy injections, and more.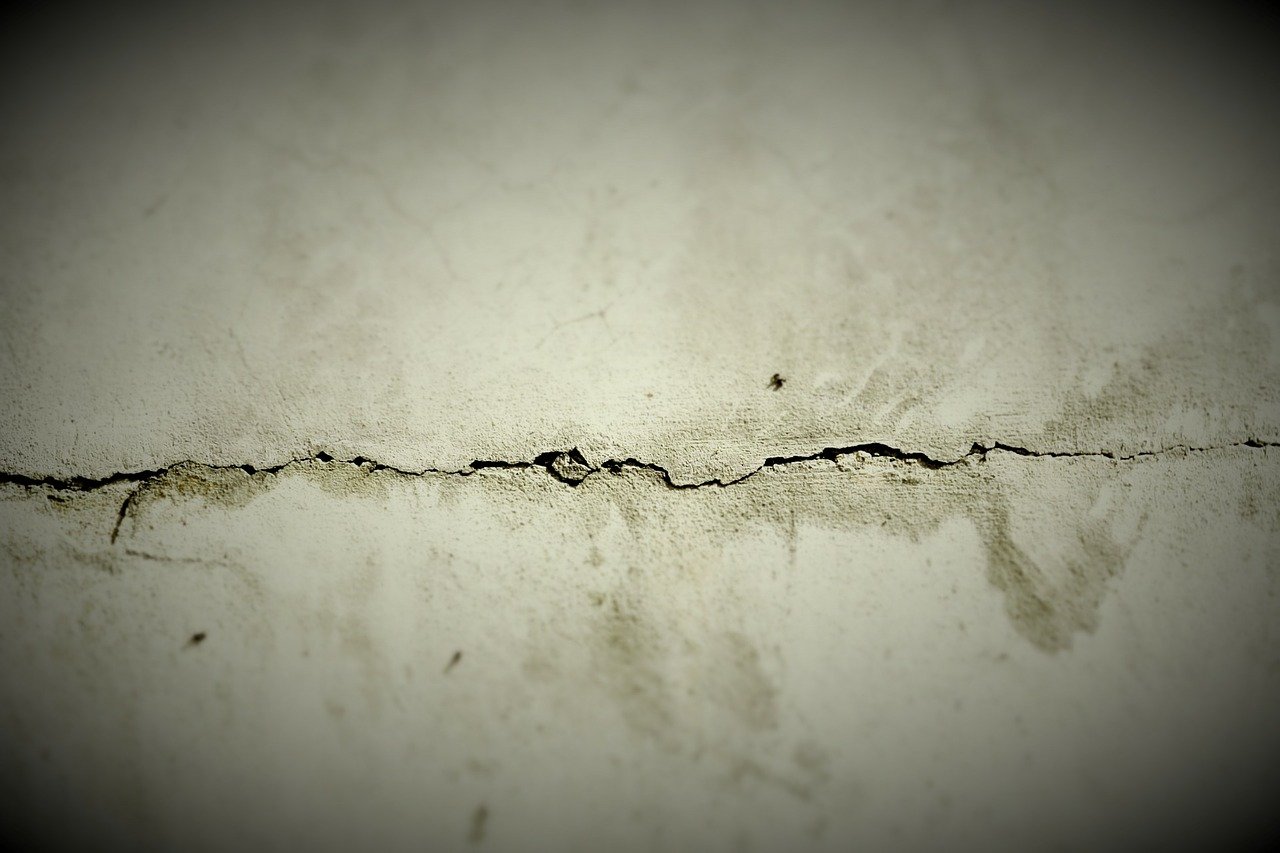 How to Repair Bowing Basement Walls
At Scaldino Basement Solutions we offer the best in both old tried-and-true methods and the latest technology. We are expert installers of state-of-the-art solutions and we're also experienced masons and can use different repair methods for bowed basement walls when necessary.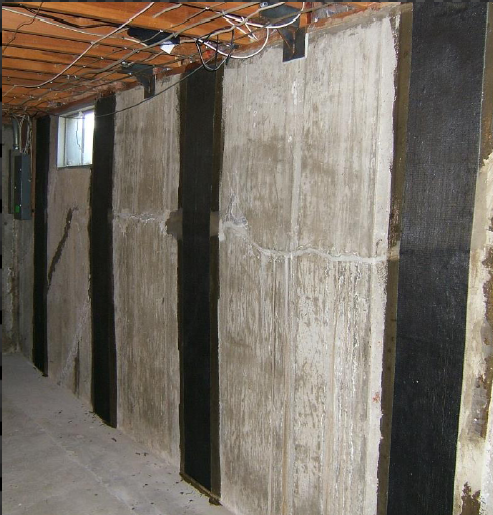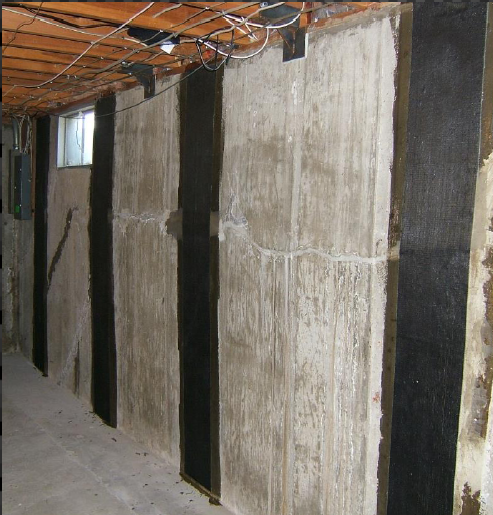 Carbon Fiber Strips
Discover the cutting-edge solution for bowing foundation wall repairs – Carbon Fiber Strapping! This innovative technique utilizes robust, low-stretch carbon fibers to securely and effectively seal cracks, ensuring long-lasting stability and peace of mind.
Affordable & Cost effective
Stronger than steel beams
Lays flat on the walls,
Water tight barrier to stop leaks
Seals, strengthens, and stabilizes bowing walls
Limited Transferrable Lifetime Warranty
Can be painted for a clean & finished look.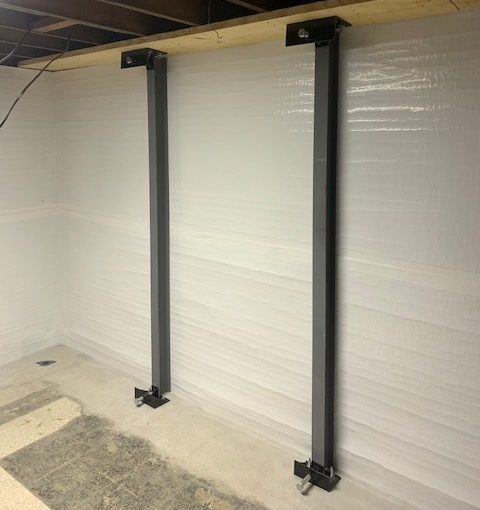 Steel I-beam Repair
Experience peace of mind and lasting stability in your home with our custom-designed, zinc-plated steel beam solutions. Expertly engineered to fortify your basement walls, these robust steel beams partner with industry-leading brackets, securely anchored to floor joists and the basement floor. The result is a dependable wall security system that requires no modification to your walls.
Some of the benefits include:
Fast installation process
Long lasting and no corrosion
Doesn't disturb other areas of your home
Outside excavation not required
Walls won't slant or bow anymore
Healthy Basement & Healthy Crawl Space Certificate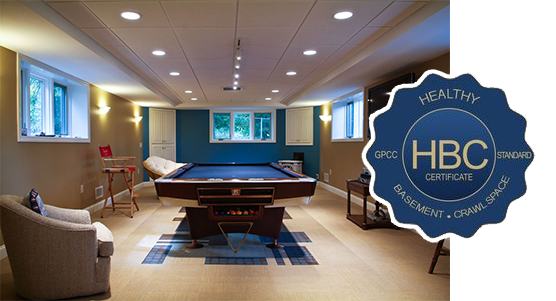 The Healthy Basement and Crawl Space Certificates were created using specific sets of criteria to provide a healthy indoor living environment. Air pollutants and excessive moisture levels in the basement or crawl space can negatively impact the odors in the home as well as cause health problems with those who live there year-round - including yourself!
We offer 6 levels of Healthy Basement Certificate, and 5 levels Healthy Crawl Space Certificate, each designed to solve specific problems and protect your home, family, and property value on the long run.
Steps towards a healthy basement and a Nationally Backed Warranty.
All of our Healthy Basement / Crawl Space Contractors are trained and certified.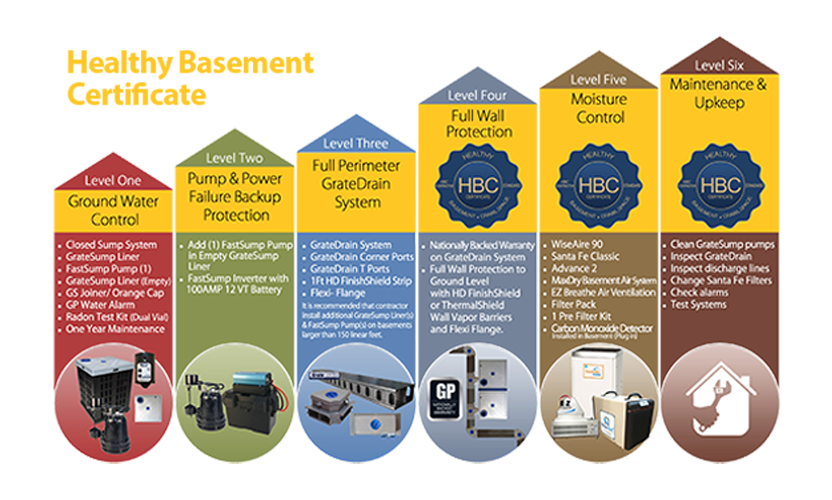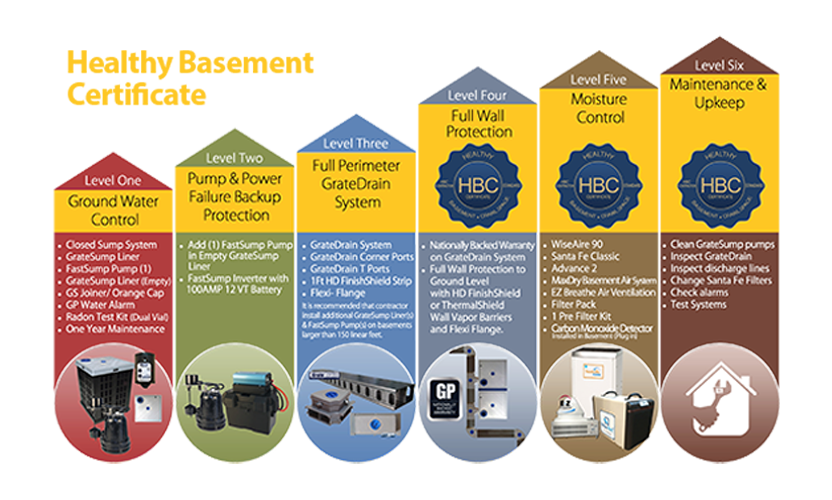 Steps towards a healthy crawl space and a Nationally Backed Warranty.
All of our Healthy Basement / Crawl Space Contractors are trained and certified.
What our customers say about us